Administrator
Staff member
Admin
Joined

Sep 24, 2017
Messages

14
Reaction score

0
Points

1
How to Make Money:
Our server is economy based, there are several ways to make money on the server and most are listed below:
Selling to the Server
You can use /sell hand to sell items that you are currently holding, to figure out how much you'll get for the item(s), you can use /worth.
Creating a Shop
(ChestShop)
The best way to make money on the server would be to create a shop, a video tutorial can be found
here
. But heres the general template layout of how you should setup your shop: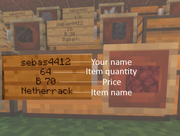 PlayerShop GUI
Use '/pshop sell [quantity] [price]' to put items up for sale for other players to purchase.
Auctions
You can put your items up for auction for others on the server to bid on by using the commands below:
/auction start [price of item] - drag item you wish to list into the top area.
/bid [price] - bid on others auctions
Mob Farms
Probably the easiest form of obtaining money, just create a mob farm and sell the mob drops to the server.
Jobs
Use the command '/jobs browse' to find a job to select and begin earning money for completing the task.
Where to Get Items:
Items such as armor, tools, food, & etc. can currently be obtained through the methods listed below.
Trading Posts (W.I.P)
Found outside of spawn and can be used by right-clicking on the villager.
Server Store
Accessible by using /shop or by right-clicking the shop npc at spawn. This should bring up a menu where you'll be able to purchase whatever you need.
Player Shops
There are currently two forms of player shops on the server, ChestShop & a GUI shop which can be accessed by anyone on the server by using /pshop & to sell to the server you can use /pshop sell [quantity] price].